Have you tried stamping on tumbled tile flooring tiles? It is easy and they make wonderful gifts for Christmas, house-warmings, birthdays….you name it. I made this one using the Happy Blessings stamp set from Stampin' Up! I stamped the images with brown Staz-On ink which dries quickly and works on almost all surfaces. I thought it would be permanent but found that my blender pen was dissolving the stamped image. I stopped working on the tile and baked it in the oven at 150 degrees for 20 minutes. Then I let it cool and the brown Staz-On ink became permanent. Here is a picture of the trivit and directions follow.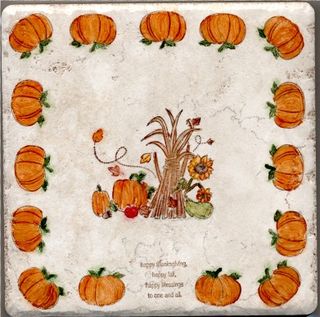 To order this stamp set and the craft inks, click here.
Supplies:
Stamp Set: Happy Blessings
Inks: Timber Brown Staz-On,
        Craft inks-Garden Green
            Pumpkin Pie
            Real Red
            Ruby Red   
            Creamy Caramel
            Summer Sun
            Chocolate Chip
            Really Rust
Other: Blender Pen
           Tumbled Tile 6"x6"
           Four half marbles (found in the floral
                arranging area of a craft store)
Directions:
1. Clean surface of tile well and let dry.
2. Stamp images with Timber Brown Staz-On ink.
3.  Bake tile in 150 degree oven for 20 minutes. Let cool.
4.  Using the blender pen, pick up ink from Craft pads to color in the images.
5.  Bake tile again in 150 degree oven for 20 minutes. Let cool.
6.  When cool, glue a half marble in each of the four corners on the bottom side. These little 'feet' lift the trivit up off the surface of the table or counter and make it easier to pick up the trivit. As an alternate idea, glue a hanger on the back of the trivit instead of the feet and hang it on the wall.