I love this new set from Stampin' Up! Tess is so cute! I hope this get-well card will cheer up a friend who has cancer.
 Did you know you can order this set either in the traditional wood mount or in Stampin' Up!'s new clear mount stamp set? You get the same deeply etched rubber and cushion we are accustomed to from Stampin' Up! either way. The difference is that the clear mount stamps are repositional and are stored in cases similar to DVD cases. You mount them on clear acrylic blocks that are the exact same shape and thickness as our familiar wood blocks. An advantage is that you can see through the clear block for better placement and the index is printed on static cling so you can mount it directly on the cushion and still get your stamp to stick to the acrylic block. You just have to be a little gentler when scrubbing your stamp because you can scrub the stamp right off the block. Think of the more stamps you can store on the same amount of shelf space!!!
You can order a set of clear acrylic blocks and the supplies needed to make this card from my online store or by emailing me.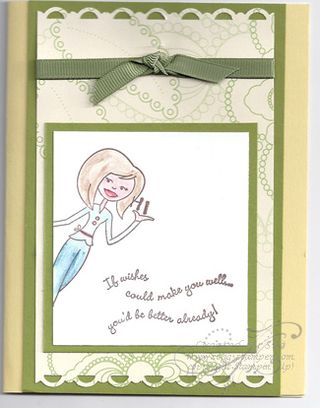 Stamp sets: Tote-ally Tess, Curvy Verses
Card Stock: Old Olive, Barely Banana, Whisper White
Ink: Basic Brown
Other: Shades of Spring Designer Series Paper, Watercolor Wonder Crayons, Aqua painter, Scallop Trim punch, Old Olive Grosgrain ribbon
Thanks for visiting my blog! Do come visit again.
Blessings,
Sue