Can you believe it? We have a National Postcard Week! In honor of this week and in honor of National Scrapbooking Month, I have created this scrapbook page for you using the My Digital Studio program from Stampin' Up!. The postcard is from Salt Lake City where Stampin' Up! holds their annual convention for Stampin' Up! demonstrators. I have included scenes from the 2006 convention where I had the exciting opportunity to walk across the stage in recognition of my five years as a demonstrator. My friend, Trish Brunkhart, was so excited that she…and I practically ran onto the stage….and…off the stage. We were in the spotlight for maybe 10 whole seconds…LOL! At least someone did get a picture of us.
Now…if you would like t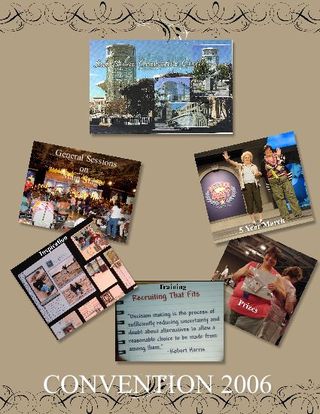 o join me at convention as a demonstrator on my team, I would love to have you. This is the best business! Where else can you set your own hours, your own level of business activity, get great support and training from the home office, and have FUN while you are doing it? Now is the perfect time to sign up! The starter kit that includes the My Digital Studio program in addition to stamps, paper, ink pads and markers is only $185 (an over $295 value). But you must sign up by June 30 to take advantage of this offer. Contact me at sue@soggystamper.com for more information.
Thanks for visiting me today. Please leave a comment so I know you were here and do come back again soon.
Blessings, Sue