Over on Utah Diva's International, we had a contest during April called "Spring Into Spring." Congratulations to the winner Gretchen Barron. Here is her card. Unfortunately, I didn't reread the directions before making my card and made a standard 5 1/2" by 4 1/4" card. When my card was finished the night before the postmark deadline, I rechecked the directions. Oh no! The card was supposed to be a 5" square! Needless to say, I didn't have time to remake my card so I didn't submit it. Here it is in all it's glory. The butterflies are 'floating' on spirals cut from overhead transparencies.
Here it is closed                                                    and here it is opened.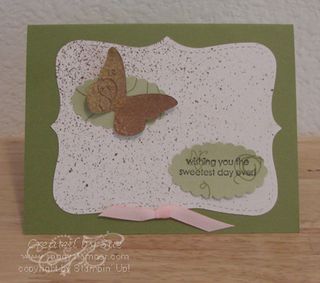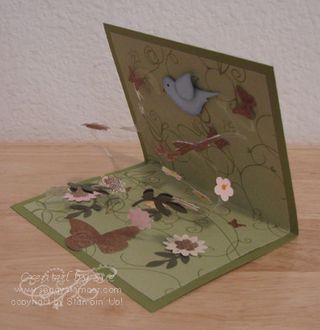 The butterflies and the centers of the larger flowers are punched out of card stock I first sprayed with Log Cabin Smooch Spritz. Thanks for visiting my blog today.
Blessings,
Sue
Stamp Set: Something Sweet
Inks: Basic Black, Bashful Blue, and Summer Sun marker
Card Stock: Old Olive, Whisper White, Pretty in Pink, Bashful Blue, Always Artichoke
Other: Log Cabin Smooch Spritz, Extra Large Two-Step Bird punch, Boho Blossoms punch, Trio Flower punch, 1 3/4" circle punch, Top Note Bigz die, Garden Wall Designer Series paper, clear overhead transparency