Tomorrow is the last day of convention and I will be a little sad to have to say goodbye to my online friends whose company I have enjoyed in person the last three days. We have stamped, talked, stamped, talked…you get the idea. It is good for the soul to connect with them in person once a year at least. One of the great benefits of being a demonstrator is the opportunity to go to convention each year. Once in a while I feel I should stay home from convention and save the money but my husband tells me I NEED to go to keep my connections with other demonstrators. You gotta love a man like that!
So how about you? Would you like to be able to come to convention for the excitement, the opportunity to learn new business and stamping ideas, and to meet people? Then contact me for more information about the many benefits of owning your own stamping business.
Here is a picture of some of my convention stamping buddies and roommates having dinner at Acme Burgers in Salt Lake City.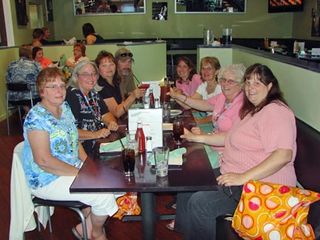 Thanks for stopping by to visit. Please leave a comment so I know you have been here.
Blessings,
Sue