As primarily a card maker and not much of a scrapbooker, I hesitated to purchase a Big Shot Die-Cutting Machine. After all, I most likely wouldn't be using it to do scrapbooking and would I really need it for cards? Let me tell you….it is one of my tools I use most!
The variety of dies available through Stampin' Up! is amazing. You can find dies for small gift packaging like the Matchbox die (114890), the Fancy Favor die (115965), and the Mini Milk Carton die (117310). There is even a die to cut out a card with a window in it, the Magnetic Movers & Shapers (114506, 116821, and 115953). All kinds of dies are available to cut out accent pieces and the Sizzlx Embosslit dies will cut out and emboss an accent at the same time. I use these accents on my cards all the time.
I also did not originally know the scope of materials that the Big Shot can cut. It not only cuts paper but fabric, cork, metal, and vinyl to name a few of the 50 different materials it can cut. I have attached an example of this. I wanted to make an unique 3D item to swap at the Stampin' Up! convention this year. Since the Big Shot can cut metal, I adapted a project I saw on Jane Giggy's blog where she cut butterflies out of pop cans using the Beautiful Butterflies die (114507) and made plant stakes out of them. I love the look of copper (and don't drink pop so didn't have any pop cans around) so I went to the local hardware store in search of sheets of thin copper. What I found was a large roll of copper flashing. It will last me a long time. I have included a picture of my creation. They were a big hit at convention. Now….go to my online store by clicking here to place an order for your own Big Shot! You will wonder how you ever did without it! Contact me for more ideas on using your Big Shot. Thanks for stopping by! Please leave a comment so I know you were visiting.
Blessings,
Sue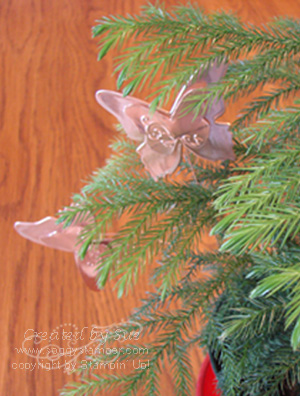 Supplies:
Big Shot Die-Cutting Machine #113439
Beautiful Butterflies Bigz Die #114507
Beautiful Wings Embosslits Die #118138
Copper Flashing and copper wire from local hardware store
Crystal Effects #101055