This awesome 3D Explosion box was my contribution in a Utah Diva International 3D swap at convention. I used the tutorials by Valita and Sharri to make this box. While it takes time to complete the project, it is so worth the effort.

I finished the bottom of the rose by adhering the largest flower of the Boho Blossoms Punch punched from Certainly Celery card stock. You have to scrunch it around the base of the rose. I used Old Olive satin ribbon in place of leaves. The pink and green panels are made from the brocade patterned sheets of the Presto Patterns Specialty paper. I used Pirouette Pink and Certainly Celery ink pads directly to the paper.

A very big thanks to Valita and Sharri for so generously providing their tutorials. Click here to order supplies to make this project.

Thanks for visiting today. Please leave a comment so I know you were here.
Blessings,
Sue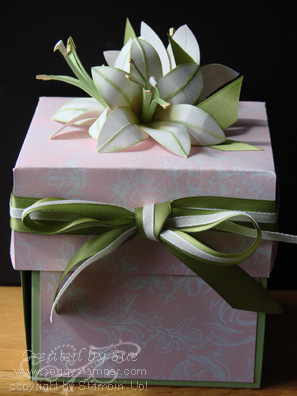 Cardstock: Certainly Celery, Whisper White, Regal Rose, So Saffron

Inks: Pirouette Pink, Certainly Celery, So Saffron

Other: 2" x 1 3/8" Oval Punch (119859), Fancy Flower Punch (118073), Boho Blossoms Punch (119858), Presto Patterns Specialty Paper (117175), Old Olive Satin Ribbon (117292), Dazzling Diamonds (102023), Crystal Effects (101055), 2-way Glue (100245),Supplies: Sticky Strip (104294)