Did you know we even had such a day? I didn't either but it is a great idea. The project I had planned to share with you today falls right in line with this theme.
There were some copper embossed butterflies lying on my stamping table that were left over from an earlier project. My 1 1/2" x 2" Simply Adorned charm was also lying on my stamping table and my creative muse realized that the butterflies would make an great focal point for an insert for the charm.
I have a shallow tub by my table top paper cutter where I put my paper scraps when I am cutting layers for my projects. I started looking through these scraps for the perfect color card stock to coordinate with the butterflies. I found a small Baja Breeze scrap that had been embossed with the Elegant Lines embossing folder….perfect! Then I looked for a coordinating piece for the back side of the charm and found a scrap of Elegant Soiree Designer Series paper. I am so pleased with the end results and the whole project took maybe 15 minutes!
Send me a picture of a project you make with recycled scraps and I will be happy to share it here on my blog. Tomorrow I will share my scrap storage system with you.
Happy Holiday Stamping,
Sue
        Back                            Front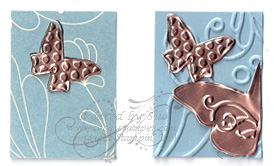 Paper: Elegant Soiree Designer Series Paper 117163)
           Baja Breeze Card Stock (111352)
Other: Elegant Lines Embossing Folder (119277)
           Beautiful Wings Embosslits Die (118138)
           Copper Flashing (from your hardware store)
            Mini Glue Dots (103683)