Do you have card stock and scrapbook paper scraps coming out your ears? Are you like me and save every scrap because it will come in handy for punching out a flower or butterfly? Do you wish you had a system for dealing with all these scraps other than throwing all of them away and never saving any at all?
I finally loosely organized all my scraps. I have a small tub sitting by my
Stampin' Up! tabletop paper cutter where I place my scraps as soon as they have been cut. Periodically I go through these scraps and file them in a more permanent place. Here is a picture of this tub. It looks like it is overdue to be sorted!!!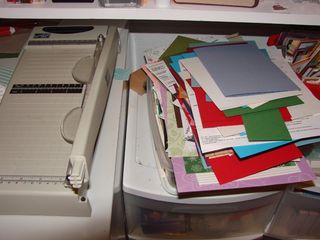 When I sort these scraps I put the true scraps into Craft Keepers by color category: yellow/orange, blues, greens…etc. I also have a craft keeper for metallic cardstock, backgrounds, and preprinted papers. These Craft Keepers are in a crate under my stamping table so they are close at hand. Here is a view of these craft keepers.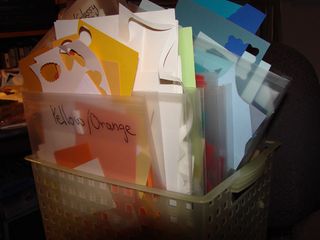 As I am cutting card stock, I try to leave portions of the sheet in 1/2  or 1/4 sheet sizes. I store these in the containers shown below.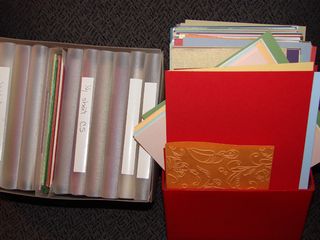 There are many other ways to store your scraps but these seem to work pretty well for me. I hope this discussion is helpful to you. I'd be delighted for you to describe your way of storing scraps in a comment below.
Happy Holiday Stamping,
Sue