…item from the Holiday Mini? I must say my favorite item is the Deck the Halls Designer Series paper (and all the rest of the stamps and embellishments that go with it)! Not only is this designer paper beautiful and perfect for Christmas but many of the designs can be used year-round. I like this paper so much that I purchased two 12" x 12" frames to frame the collage sheets they are just so beautiful all by themselves. Furthermore, many of the images in the collage sheets have been made into stamps such as Bells and Boughs and the Christmas Collage stamp.
I have already posted here a couple of candy wrapper boxes I made using the Deck the Halls Designer Series paper and now share with you a card I made using a different part of the same sheet of paper. I also used the music notes wheel. I cut a slit along the edge of the poinsettias so I could slip the edge of the 'music' under them.
Now it is your turn to share. Leave a comment telling me what is your favorite item from the Holiday Mini. Thanks for visiting today, do come back soon..you hear? "Cause I'm posting more creations from the Deck the Halls DSP over the next few days.
Happy Holiday Stamping,
Sue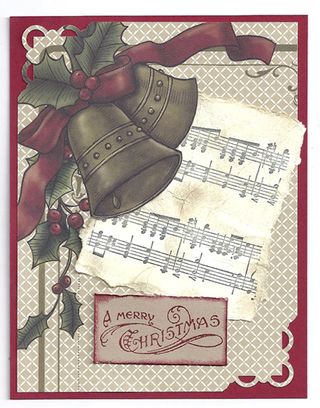 Stamps: Bells and Boughs (120831, wood) (121142, clear)
Paper: card stock – Cherry Cobbler (119685), Very Vanilla (101650), Crumb Cake (120953), Deck the Halls Designer Paper (120810)
Inks: Cherry Cobbler Classic stamp pad (119669), Crumb Cake Classic stamp pad (121030), Basic Black stamp pad (101179)
Other: Music Notes Stampin' Around wheel (120327), Stampin' Around Handle (102971), Sponge Daubers (102892), Scallop Trim Corner punch (118870)