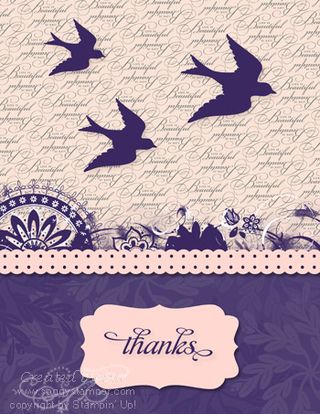 What to do when you need to make a card and your stamping table is such a mess that you don't have even a foot of space to stamp? You turn to your computer and My Digital Studio!
This stamp room never gets messed up…well, you might have to clean out some files once in a while so you don't run out of memory space…LOL! Anyway, I wanted to stamp today but didn't have the time to clean up a space so here is what I created with My Digital Studio.
Stampin' Up! released a lot of My Digital Studio downloads during January and I am excited about playing around with them. If you haven't purchased My Digital Studio yet, what is keeping you from it? The program is easy to use and the creative possibilities are limitless! Click here to purchase your own copy.
Happy Stamping,
Sue
Stamp Brush Sets using Concord Crush color: Thank You Kindly
            Notably Ornate
            Torn Edges – Flower Edge
Paper: Pink Pirouette card stock, Lap Of Luxury designs #6 and #12
Punches: Decorative Label punch
            Dotted Scallop Ribbon Punch