As usual, I am going to be late with the grandkids' Valentines. Can I use the fact that I live in SE Alaska on a remote island as an excuse? Not really! Anyway, here are some milk cartons I filled with candy to send to them. By the time these little gems arrive, the kids will have eaten all their Valentine candy and will be ready for more sugar…heh, heh, heh! :o)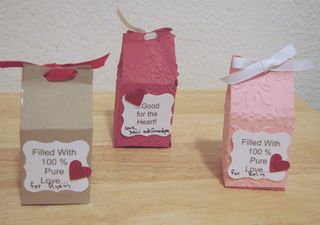 I used the Bigz L Mini Milk Carton Die. I embossed a couple of them after cutting them out but found that the embossing with this Vintage Wallpaper embossing folder caused the paper to actually crack in places so didn't emboss the rest. I computer generated the sayings using My Digital Studio, printed them out and then used the Curly Label punch to punch them out. On one side of the milk carton it says "Filled With 100% Pure Love…" The other side says "…Good for the Heart!" I really like the way these turned out.
This milk carton die is so versatile. You can adapt it for any occasion, fill it with a small gift, candy, or even slips of paper with wishes or promises or love notes printed on them. You can order the Big Shot and this die and any other supplies you need to make this project by visiting my online store 24/7. Ordering is easy and your purchases are delivered straight to you.
Thanks for coming to visit today. Do come back to see what I have for you tomorrow.
Happy Valentine's Day,
Sue
sue@soggystamper.com
Paper: Pretty in Pink card stock (100459)
            Rose Red card stock (102544)
            Crumb Cake card stock (120953)
            Whisper White card stock (100730)
            Glimmer Paper (121790)
Other: Curly Label Extra-Large Punch (119851)
            Heart Small Punch (117193)
            My Digital Studio (118108)
            Mini Milk Carton Bigz L Die (117310)
            Big Shot Die-Cutting Machine (113439)
            Crop-a-Dile (108362)
            assorted colors of grosgrain ribbon