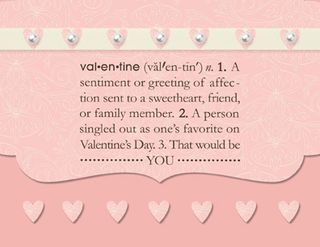 Happy Valentine's Day! May your day be filled with love!
I have been accepted onto the design team for Utah Diva's International MDS Monday feature and this is the first project I have created. To create the shape along the edge of designer series paper, I added the Decorative Label Punch to my project. I filled it with Lap of Luxury 2 designer series paper fill. Then I enlarged the punch until all the edges except the bottom edge extended beyond the edges of the card. I then added a drop shadow. To line up the hearts evenly, I centered the middle one. Then I copied the punch, pasted it and dragged it to roughly the place where I wanted it. Finally I fine tuned the placement by right-clicking on the punched heart and choosing 'edit object'. That lead me to the screen showing the size and X/Y coordinates. I adjusted these numbers to match the middle heart's numbers.
Thanks for coming by to visit today. Visit my online store to order My Digital Studio if you would like to have a stamping studio that travels with you and takes up no more space than the footprint of your computer.
Happy Digital Stamping,
Sue
Stamp Brush Set: Valentine Defined (124026), color-Early Espresso

Card Stock: Blushing Bride
Designer Series Paper Fill: Lap of Luxury 2 (123992)
Other: Decorative Label Punch (123951)
        Small Heart Punch filled with Lap of Luxury 2 Designer Series Paper
        Basic Pearls and Rhinestones (124330)
        Very Vanilla Satin Ribbon from Satin Ribbon Embellishments Kit (121063)