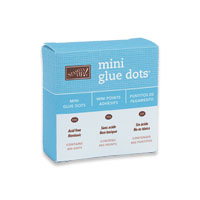 Before Stampin' Up! began selling Mini Glue-Dots, I struggled to get bows to stick to my cards. I tried punching holes and tying the bows. I was not pleased with how they looked. Then I tried gluing them on but it took lots of glue and a long time for the glue to dry. Finally I resorted to cutting glue sticks into tiny pieces, placing a piece where I wanted a bow, melting the little piece of glue with my heat tool from the under side of the card, and sticking the bow down on the melted glue. That worked well but was labor intensive.
Enter Mini glue dots! Oh my goodness! They were so convient to use and worked so well with a variety of materials. Now I can't live without my glue dots! If you haven't tried them yet, why not? Order them right now from my online store and see how easy they are to use for yourself.
Thanks for stopping by to visit here today. Did you take time to enjoy a virtual cup of coffee or tea while you browsed around my site?
Happy Stamping,
Sue