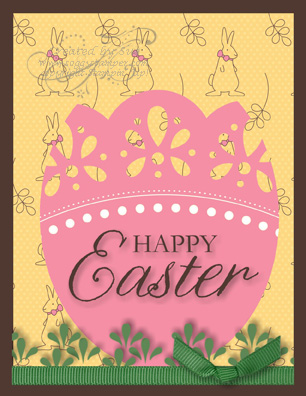 Yesterday, Stampin' Up! released a new series of My Digital Studio downloads. This card is made with Easter Blossoms Stamp Brush Set from this current download and the Nursery Designer Series Paper download that was released February 15. Click on the links for pictures of the downloads.
I used Early Espresso card stock for the base of the card. Then I enlarged the square punch and filled it with Nursery Designer Series Paper #3. I added a circle punch and elongated it to make the egg shape. I filled this with Nursery Designer Series Paper #11 and moved the punch around to get the border of the paper in the punch. To do this you will have to unclick the box that says to rotate fill with punch. Once you get the fill as you want it, click the box again so the fill will rotate and move along with the punch. The "grass" is All Scallops Stamp Brush Set #8 stamped with Garden Green. I copied and pasted it three times to get the clumps of grass.
If you like this card, please leave a comment, click the FB like button, and share it with your friends. Thanks for coming to visit today and I hope that the promise of Spring lifts your spirits today.
Happy Stamping,
Sue
sue@soggystamper.com
Stamp Brush Sets: Easter Blossoms (124436)
           All Scallops (118819)
Paper: Nursery Designer Series Paper (124561) #'s 3 and 11
Other: Circle punch from Punch Shapes (118853)
          1/4" Grograin Ribbon in Garden Green (118851)
          Grosgrain Ribbon Knot in Garden Green (118852)