I have started MDS Mondays and now I am introducing Tuesday Tip. Each Tuesday I will post a tip on how to use a particular paper crafting tool or how to do something to make your stamping easier or more professional.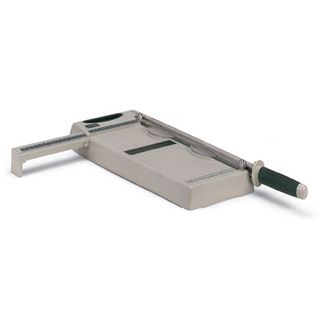 Today I am featuring Stampin' Up!'s Tabletop paper cutter. This is a guillotine style paper cutter that can cut up to three sheets of card stock at one time. The extension measuring arm and handle are removable and store on the underside of the cutter making this a very portable cutter. There is a safety finger guard which is really necessary as the self-sharpening blade is very sharp. I was sold on this cutter when I saw the very fine slivers of card stock that can be cut with it.
Some stampers have reported that this cutter does not cut smoothly all along the blade. My cutter sometimes does leave a frayed edge near the handle end of the blade. I have found this is due to my not being careful to pull the handle toward the platform as I am cutting down. When I am careful to have good contact between the cutting surfaces all the way through the cut, I have nice clean cuts. The platform also has grooves for measuring etched into the surface. They will never rub off! These lines are also great for being sure that your paper is lined up straight when you are cutting it. If you don't already have this wonderful Tabletop Cutter, I recommend you click here and order it right away. You will be happy you did.
Thanks for stopping by to visit today. Did you take the time so share a virtual cup of coffee or tea with me? Did you enjoy the virtual banana bread I also offered?
Happy Stamping,