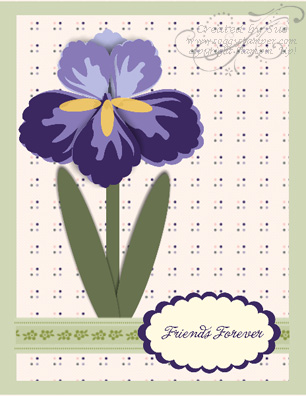 I love irises and challenged myself to create one using the digital version of Build a Blossom. I used the color picker to pick the color from the Ice Cream Parlor Strip 2 for the base of the card. The next layer is the square punch stretched and filled with Lap of Luxury Designer Series Paper Pattern 1. The upper petals of the iris are colored with Almost Amethyst and Lovely Lilac while the lower petals are Lovely Lilac and Concord Grape. The fluffy yellow part of an iris was created by shrinking the oval punch and filling it in with Daffodil Delight. I created the stem by stretching and narrowing the square punch and filling it with Always Artichoke. The leaves were created from oval punches and again filled with Always Artichoke. I added the Ice Cream Parlor Strip 2 and placed Ice Cream Parlor Strip 7 over it.
I love the way this card turned out. What do you think? Does it look like an iris? Leave me a comment and let me know.
Stamp Set Brushes: Build a Blossom (124019), Chat Room Friend (124543)
Paper: Lap of Luxury Designer Series Paper Pattern 1 (123992)
Punches: Scallop Oval, oval, and square from Punch Shapes (118853)
Accessories: Ice Cream Parlor Strip 2 and 7 from So Much to Sale-a-Brate Digital Content CD (123681) Free with $50 purchase! Offer ends March 31!
Thanks for coming by to visit today. Here is a virtual cup of coffee or tea for you to enjoy while you browse my site.

Happy stamping,
Sue Erickson
sue@soggystamper.com