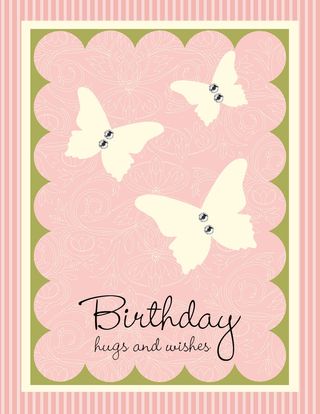 Our assignment for Utah Divas International MDS Monday was to use punches on our cards. This was a fun challenge. I used the scallop square punch and stretched it to make a rectangle. However had I stretched it as tall as my card, the side scallops would have been much bigger than the end ones. What I did was to copy the first stretched scallop square and then paste it over itself matching up the scallops. Then I filled them both with a designer series paper that had a pattern that would blend fairly well.
I used two square punches stretched to make rectangles and filled one with Pear Pizzazz color, the other with Very Vanilla. The butterflies are resized butterfly punches filled with Very Vanilla. Basic rhinestones add sparkle to the butterflies.
If you don't already have a demonstrator and would like to order these MDS downloads, just click on the item numbers to order them through my online store.
Stamp Bush Set: Hugs and Wishes (119095)
Background Paper: Blushing Bride Stripes 2010 In Color Patterns DSP
        Lap of Luxury-2 Designer Series Paper (123992)
Punches: Scallop Square and Basic Square found in Punch Shapes (118853)
        Beautiful Butterfly Shape 1 (124412)
Other: Basic Pearls and Rhinestones (124330)
Thanks for coming by to visit today. If you like this project, please leave a comment and also click on the FaceBook like button.
Happy Stamping,
Sue
sue@soggystamper.com