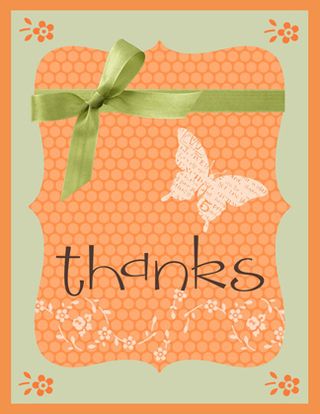 There are only 4 more days to take advantage of Sale-a-Bration where for every $50 order of SU product, you can choose a FREE item from the Sale-a-Bration brochure. I wanted to feature a couple of those FREE products in my card today. Yes, the product in this year's Sale-a-Bration brochure is available digitally on a FREE CD! How cool is that?
I used designs from the Ice Cream Parlor Designer Series Paper & Quick Accents Pack. I added the butterfly from the Bliss Stamp Brush Set and the 'thanks' greeting from the So Happy for You Stamp Brush Set. Add a Pear Pizzazz Seam Binding ribbon and bow and there you have it! So quick and easy and no mess or clean-up! Order your copy of My Digital Studio before March 31 and choose the Digital Content CD (123681) as your FREE gift.
Stamp Brush Sets: Bliss, So Happy for You
Background color: color picked from the designer series paper
Punches: Square resized and filled with the color picked from Ice Cream Parlor borders #2, Top Note Shape filled with Ice Cream Parlor Pattern 5 – moved so floral design at bottom of page shows in the punch
Other: Pear Pizzazz Seam Binding ribbon, Ice Cream Parlor Embellishments – Flowers
Thanks for coming by to visit today. I hope you took time to browse my blog as you enjoyed a virtual cup of coffee or tea with me.
Happy Spring Stamping,
Sue
sue@soggystamper.com