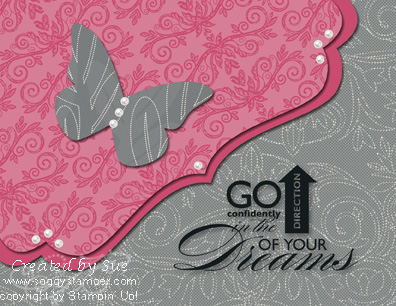 Good Monday morning! Here is a card to encourage you as you start the day and the week. When I started out creating this card with My Digital Studio, I had no idea I would be creating a pink and gray card. The creation took on a life of itself and this is what evolved. I like the sophistication of the pink and gray together. My word today for you all is "Go confidantly in the direction of your dreams!" The diagonal shape across the card comes from enlarging the Decorative Label Punch and dragging it off the workspace so just one edge of the punch is in the card. I did this twice with two different sizes of the punch and color-picked the rosy/red color from the Strength and Hope Designer Series Paper pattern #3. To purchase any of the elements in this card, just click on the item number and the link will take you to my online store.
Stamp Brush Set: Word Play – dreams whole (124432)
Background paper: Lap of Luxury Designer Series Paper – pattern 10
                        (123992)
Punches: Decorative Label Punch (123951) filled with Strength and Hope
                        Designer Series Paper Pattern 3 (124475)
        Butterfly shape 2 (124412) filled with Lap of Luxury DSP – pattern
                        3 with punch moved to bottom left hand corner
Embellishments: Basic Pearls and Rhinestones – medium sized pearls (124330)
I hope you like this card. If you do, would you please share it with others and also leave a comment for me? I'd also be really, really excited if you would visit my FaceBook page and 'like' me.
Happy mouse clicks to you,
Sue Erickson
sue@soggystamper.com