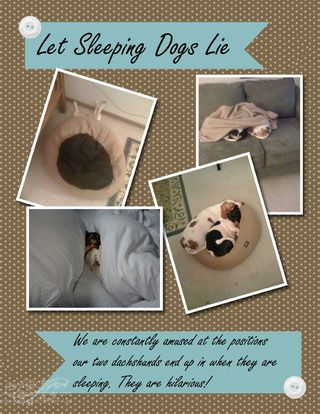 Our two mini-dachshunds are a never-ending source of entertainment and laughs for us. Here is a scrapbook page I created with My Digital Studio of them in various sleeping positions. The pictures are hilarious. One night I was working at my computer and kept hearing this scratching noise. I finally investigated. Little One was sleeping on her back with her legs up against the wall and her doughnut bed on top of her. The pups like to sleep wrapped up tightly in a blanket we have on our couch, n some instances….almost all wrapped up. I hope you enjoy this scrapbook page.
Background Paper: The Write Stuff II – Soft Suede Designer Series Paper (120881)
Punches: Square punch stretched to a rectangle and filled with Baja Breeze color
        Square punch turned 1/4 turn , placed at end of rectangle and filled with the background paper (from Punch Shapes 118853)
Accessories: Button Latte – Whisper White Button (118867)
Font: Freestyle Script in 38 and 68 size
If you would like to order any of the elements of this page, just click on the item number and the link will take you to my online store. I'm glad you came to visit today. Do come back again soon!
Happy crafting with a click of a mouse,
Sue Erickson
sue@soggystamper.com