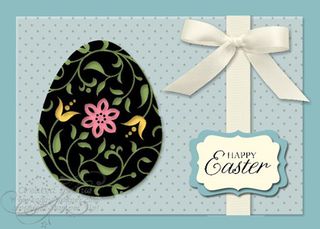 Welcome to My Digital Studio Monday. I love using My Digital Studio to create quick cards without having to haul out all my supplies. Last week I was in a rush to get little Easter treats in the mail for our grandkids and great-grandkids. I realized at the last minute that I should also send a card to their parents so I printed out this card I shared last week. I trimmed it down and layered it onto Wild Wasabi card stock and then onto a Whisper White card base. I had six cards completed in less than an hour!!! Gotta love My Digital Studio!
Now on to today's card which I created for not only this blog but also for the Utah Divas International blog.  I used three Wide Oval punches resized and rotated to fit the egg and colored-filled them with Wild Wasabi color. Then I used two Fun Flowers Shapes #3 punches ovelapped and resized to color the center flower with Regal Rose color. I used a small circle punch filled with Daffodil Delight for the two smaller flowers. I was surprised how adding the drop shadow to the black layer of the egg gives depth throughout the whole egg. I used Cottage Wall Designer Series Paper #8 at 50% opacity to fill a square punch stretched into a rectangle for the DSP layer.
Stamp Brush Set: Easter Blossoms – egg (124436)
Designer Series Paper: Cottage Wall #8 (124560)
Other: Square and circle punch from Punch Shapes (118853)
        Decorative Label punch (123951)
        Fun Flowes Shapes #3 punch  (124453)
        Very Vanilla Satin Ribbon and Bow (121063)
I hope you all had a wonderful Easter. This was the first year of no rain on Easter after several rainy years so we were blessed with a wonderful Easter Sunrise service. 'Course, the sun rises here at about 5:30 am now but we held the service at 7:00 am anyway. Not many people would get up at 5:30 even on Easter.
Thanks for stopping by to visit. Please leave your calling card by leaving a comment. If you like this card, I'd love to have you share it with your friends. If you haven't signed up for my mailing list yet, please take time to do that as well. The sign-up box is on the right.
Happy Stamping,
Sue Erickson
sue@soggystamper.com