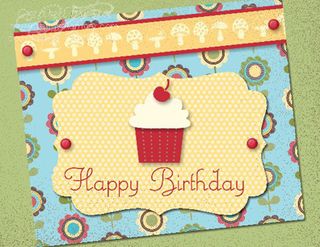 The theme this week for the UDI MDS Monday design team was cupcake or cupcake punch. This card is the result. It is not quite my style because the colors are primary colors and I tend to choose softer colors. However, the beauty of owning My Digital Studio is that you can experiment with colors, papers, and embellishments that you wouldn't ordinarily purchase because you aren't committed to a bunch of supplies you'll never use again. Have I told you how much I LOVE My Digital Studio? If you haven't ordered your copy yet, hurry and click here to place your order! I didn't like the flat look of the Kiwi Kiss background so I stamped Vintage Overlays #1 in Soft Suede on the card and moved it around so it would be just on the edges of the card. I stamped it a second time and clicked on the mirror image button so that it would be on both sides of the card.
Stamp Brush Sets: Create a Cupcake (124017)
            Vintage Overlay #1 (121061)
Digital Card Stock and Designer Series Paper: Wild Wasabi
            Play Date Pattern 11 (121438) and Pattern 7
Digital Accessories and Tools: Square Punch (118853)
            Decorative Label Punch (123951)
            Brads (118847)
            Play Date Quick Accents – borders – mushrooms 2 (123432)
Thanks for coming by to visit today. Take some time to enjoy a cup of virtual coffee or tea with me while you browse my blog. 

Happy digital crafting,
Sue
sue@soggystamper.com