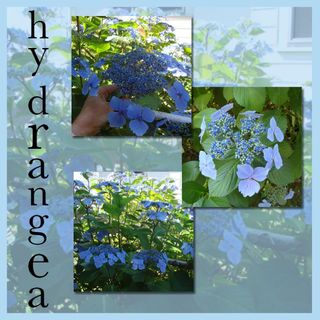 Our assignment for this week was to create using shades of blue. I love these pictures I took of a hydrangea bush beside our daughter's home in Tacoma, WA, and knew they would be perfect for this project. It is an 8" x 8" scrapbook page. I first opened My Digital Studio and chose Scrapbook > 8×8> design your own. I added a Bashful Blue background. Next I added a photo box and expanded it to leave just a border of Bashful Blue. I inserted my picture and reduced the opacity to 40%. Then I added the three photos with drop shadows. To finish off the page I spelled out 'hydrangea' using the Schoolbook Serif Alphabet stamps going down the side.To order the Schoolbook Serif Alphabet Stamp Brush Set, just click on the link in the recipe below. The link will take you right to my online stamp store.
Tip: stamp your letters along the side. Then use the 'align' tool to center the letters evenly and then the 'space evenly vertical' option in the align tool. While you still have all the letters clicked, group them so you can position them as a group.
Thanks for joining me here today. Do come back over the next couple of days. I have a digital/hybrid card to share that I made for my hubby's birthday.
Happy Stamping,
Sue
sue@soggystamper.com
Stamp Brush Set: Schoolbook Serif Alphabet (118821)
Background: Bashful Blue digital card stock