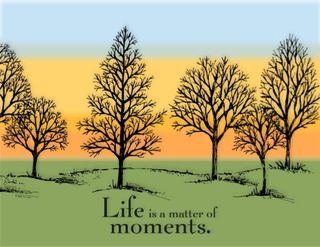 What is the oldest current stamp set in your collection? Mine has to be Lovely As A Tree which was first released in the 2003-2004 Idea Book and Catalog.This stamp set is well loved by many, many stampers. If you don't have Lovely as a Tree, you can order it here. Since it has been around for so many years, each year I expect it to be on the retirement list so don't wait to order it!
I am traveling for two months and did not bring this set along with me. Therefore I used the digital download of Lovely as a Tree to create this card. I wanted to simulate a watercolor wash on the background so made bands of color using expanded square punches filled with the drop shadow feature of My Digital Studio. I am quite pleased with the results.
I challenge you to pull out one of your oldies but goodies that is still in the Stampin' Up! catalog and make a card with it. Then email it to me and I will post it here.
Let me see those samples,
Sue
sue@soggystamper.com
Stamp Brush Set: Lovely as a Tree (125779)
            Elements of Style (123990)
Other: Square punch filled with drop shadows of Wild Wasabi, Pumpkin Pie Spice, So Saffron, and Bashful Blue. I adjusted the opacity to about 75% and the blur to 100%