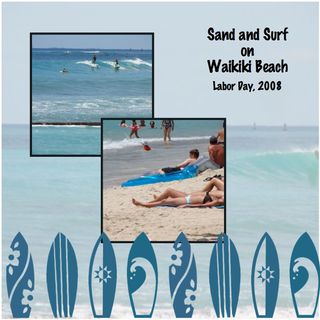 Don't these pictures just scream summer? They were actually taken a couple years ago on our Hawaiian vacation. I wish I were some of those bathing beauties on Waikiki Beach…LOL! I really enjoy creating with My Digital Studio. It has been a lifesaver for me on our 2 month trip in our 5th wheel trailer. I did bring along hand-stamping supplies but find the computer and the wealth of supplies at my fingertips with My Digital Studio so much easier to use. There is nothing to have to pull out of storage and then put back. On this scrapbook page, I needed/wanted surf boards but didn't already have some in the program. I just zipped over to the Stampin' Up! website, ordered the Summer Splash Stamp Brush Set, downloaded it and was able to play with it in a matter of minutes. It is soooooo convenient!!! If you don't have your own copy of My Digital Studio, what are you waiting for? Click here to order the full program through my online store. If you already have a photoimaging program that uses layers and supports .jpeg and .png files, you can just order the individual downloads you desire. Click here to download a catalog of all the offerings. After you look through the catalog, click here to order your choices. Downloading files is so easy and quick. This is the ultimate in instant gratification so place your order today!!!
Stamp Brush Set: Summer Splash (126039)
Title Font: Marker Felt size 28 and 20
Thanks for coming by to visit today. Don't forget to enjoy a glass of cool lemonade while you browse my blog!
Happy Crafting,
Sue Erickson
sue@soggystamper.com