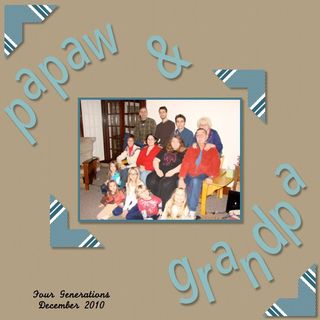 The theme for Utah Divas International's My Digital Studio Monday is grandfathers this week. Last Christmas we had the pleasure of having four generations of Ericksons/Johnsons together to celebrate. In the photo, the man in the right front is my husband called Grandpa by both grandchildren and great-grandchildren. Our so-in-law is in the back row on the left and is called Pawpaw by his grandchildren.
I used the new Simple Letters Punch digital download and filled the letters with a color picked from the colors in the photo corners that were filled with one of the patterns from the Nautical Expedition digital designer paper. Hint: When you use the color picker to get a color for multiple punches like the letters, save the color in 'favorites'. Then you won't have to worry about picking the exact same color each time.
If your grandfather is still living on this Father's Day, be sure to give him extra hugs, let him know how much you treasure him. Spend time visiting with him about when he was a child and write his memories down. Now that my father has passed away, there are so many questions I wish I had asked him while he was living.
Thanks for coming by to visit today. I offer you a virtual cup of coffee….no…..this is summer and it's probably hot! I offer you a nice cool drink of virtual ice tea or lemonade to sip while you browse my blog.
As usual, if you need any of the supplies I used for this scrapbook page, contact your Stampin' Up! demonstrator or just click on the item number to purchase them from me.
Supplies:
My Digital Studio (118108)
Papers: Crumb Cake Textured Cardstock
            Nautical Expedition Digital Designer Series Paper – 2 (122343)
Other: Large Photo Corner Punch from Punch Shapes digital download (118853)
            Simple Letters Punch digital download (127166)
            Simple Numbers Punch digital download (127167)
            PilGi font size 20
Blessings,
Sue Erickson
sue@soggystamper.com