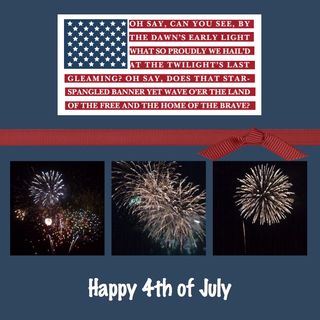 Happy 4th of July! I hope the weather in your locale is as beautiful as it is supposed to be here. We are spending the day with our older daughter and son-in-law. My husband requested fried chicken, potato salad, and watermelon…a traditional July 4th meal from his childhood. Our SIL grew up with barbecued chicken so we are going with that along with macaroni salad, potato salad, and watermelon.
One 4th of July, we were visiting friends in Idaho and went with them to the town's fireworks display. These pictures of the fireworks were taken with my I-phone. I am really surprised how well they turned out. I used the My Digital Studio download Land of the Free Stamp Brush Set (126040). I put a square punch filled with Night of Navy behind the field of stars and stretched square punches filled with Cherry Cobbler for the red stripes. Click on the item numbers to order them and create this scrapbook page for yourself.
Supplies:
My Digital Studio (118108)
Land of the Free Stamp Brush Set (126040)
Cherry Cobbler Grosgrain Ribbon (118851) and Knot (118852)
Square Punch (118853)
Marker Felt Font size 40
Thanks for coming by to visit. Come again tomorrow to see the new My Digital Studio downloads for this week.
Blessings,
Sue Erickson
sue@soggystamper.com