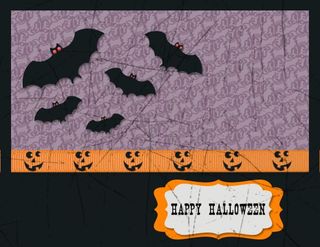 The theme for this week's My Digital Studio Monday post is Punch Animals. Maybe I am being a little lazy for using an animal punch for my card but hey…we want to keep you that are new to My Digital Studio in mind and what could be easier than using an existing punch. Therefore, I focused this card on the Bitty Bat Punch. One of the wonderful things about My Digital Studio is that while the Bitty Bat punch itself is retired, elements in My Digital Studio don't retire. Another great thing about digital punches is that they can be resized however much you desire. I used the retired designer series paper Cast-a-Spell for the top 2/3rds of the card. The greeting is from All Holidays and the jack-o-lantern faces are from the stamp brush set Pumpkin Patch. I used Poppy Parade brads for the bat eyes and put Vintage Overlays over the top with an opacity of 50% to suggest spider webs.
 Now is the time for you to jump into digital design!  Order the full program (118108) if you are just beginning digital designing. If you already have a favorite image manipulating program that uses layers and .jpeg or .png files, you can order the My Digital Express (124483) which has less digital content. And as always, you can click on an item number to order it.
Supplies:
My Digital Studio (118108) or My Digital Studio Express (124483)
Stamp Brush Sets: Vintage Overlays Texture 6 (121061)
            All Holidays (118825)
            Pumpkin Patch (118122)
Paper: Basic Black digital card stock
            Cast-A-Spell designer series paper Pattern 5 – digital download (118114)
Other: Bitty Bat Punch – digital download (122152)
            Grosgrain ribbon – Pumpkin Pie (118851)
            Decorative Punch (123951)
            Poppy Parade brads (118847)
Thanks for coming by to visit today. Now that I am home from our two months in "the lower 48", I will be more faithful in sharing with you on my blogs.
Summery Blessings,
Sue Erickson
sue@soggystamper.com