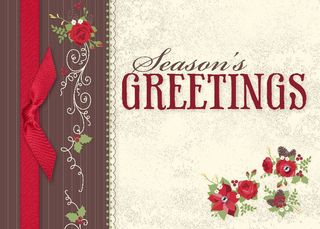 Christmas in August, you say? Well, why not? Thinking about Christmas and it's snowy weather might help you feel a little cooler. Or….you could come visit me in SE Alaska! We are having a beautiful weekend with sun and a high of about 65 or 70 degrees. Right now at 6 pm it is 60 degrees in the shade.
I used the Holly Berry Bouquet Greeting Card Designer Template digital download shown in the Holiday mini catalog for this card. You should be receiving the new Holiday Mini catalog in the mail in a couple of weeks. If you don't  and want one, drop me an email with your address and phone number and I'd be most happy to send you one. Let me tell you…this one is really awesome!!! Well, Stampin' Up! usually has really awesome Holiday Mini Catalogs but you really won't want to miss this one.
My Digital Studio designer template digital downloads make designing so simple. All I did for this card was to add a ribbon and knot and a couple of rhinestones to flower centers. The card is so beautiful by itself that I just may print it out, add a real-life ribbon and rhinestones, and send them for my Christmas cards this year. However, you can change things around in these templates if you want.
Thanks for coming to visit today. If you like this card, please leave a comment, share it with a friend, and sign up for my newsletter. The sign-up box it to the right.
Blessings,
Sue Erickson
sue@soggystamper.com