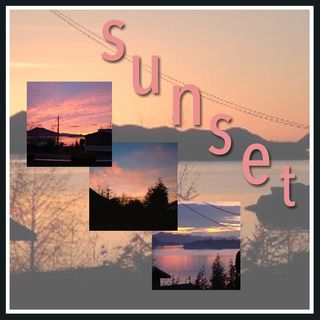 Our theme today is to share our favorite technique. This was a hard assignment for me because whatever technique I am using at the time is my favorite. However, I decided to share the technique of making a photo as the background of a picture. Another technique I used on this 8 x 8 scrapbook page was using the color picker to choose one of the sunset colors to fill in the Simple Letters Punch I used for the title of this page.
I am blessed to have a beautiful water view here on Prince of Wales Island in SE Alaska and the sunsets are so glorious. I love taking pictures of them! Using My Digital Studio makes it so easy and quick to incorporate those pictures into a scrapbook page. I would love to help you enjoy the fun of using My Digital Studio to preserve your digital photos. Click here to order your copy of the program. I hold My Digital Studio classes on the third Thursday of each month. Contact me if you are interested in more details. As always, my online store is open 24/7. You can order in the middle of the night in your jammies when you can't sleep…LOL! Just click on the items below to be taken to my online store.
Supplies:
My Digital Studio (118108)
square punch from Punch Shapes (118853)
Simple Letters Punch (127166)
Thanks for coming to visit today. Tomorrow I will be sharing the new My Digital Studio downloads so be sure to come back to see what I have to share!
Until then….blessings,
Sue Erickson
sue@soggystamper.com