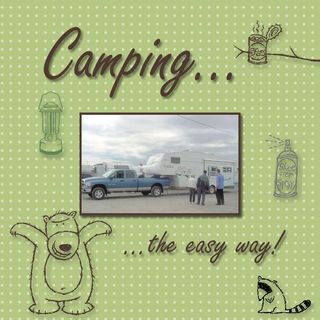 First, Happy Labor Day! I hope you are having a safe and good time with family and friends. Our theme for today is Labor Day but I drew a complete blank on what to create for that theme. I know many are taking this last weekend of summer to go camping so I thought I would do a camping theme scrapbook page.
When we were young and first married, we enjoyed camping out with a tent and campfire. As we have aged, we have come to enjoy our creature comforts so much that we don't want to give them up even for a weekend. So we have graduated over the years to a 5th wheel trailer so we can 'camp' in comfort. This is a picture of our current truck and trailer the day we became proud owners of it. Eight years later the trailer is still serving us well.
I used stamps from Under the Stars Stamp Brush Set and Happy Camper Stamp Brush Set for this 8" x 8" scrapbook page. The background is from Green Tea Designer Series Paper. To order the supplies to create a scrapbook page using your own photos, just click on the items to be taken to my online store.
Now it is your turn to share how and where you like to go camping by leaving a comment!
Supplies:
My Digital Studio (118108)
Green Tea Designer Series Paper (125769)
Happy Camper (126033)
Under the Stars (127416)
Until the next time you visit….
Blessings,
Sue Erickson
sue@soggystamper.com