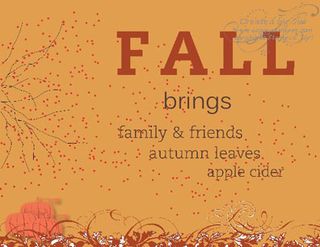 Our assignment as the design team for My Digital Studio Monday on Utah Divas International was to create a card or scrapbook page in honor of the official beginning of Fall. I used elements from the designer kit, Grateful Hearts Thanksgiving, to create this card. I added pumpkins from the Holiday Blitz stamp brush set and the Swirling Leaves from the Torn Edges stamp brush set. The letters of the word Fall came from the Grateful Hearts Thanksgiving as well as the phrases. I used a text frame for the word 'brings' and searched through the fonts on my computer to find one as close as possible to the font used for the phrases. The 'leaves' blowing off the tree branches are actually called berries but they work as leaves for me. :o) As always, you can click on the linked product name to order them from my online store.
Supplies:
My Digital Studio (118108)
Grateful Hearts Designer Kit (127620)
Holiday Blitz Stamp Brush Set
Torn Edges Stamp Brush Set (118846)
My husband is an avid football watcher and the sound of football games either in a stadium or on TV bring back great memories of my marching band and football games in high school…and the often frosty nights. What is your favorite aspect of Fall? Share it with us by posting a comment.
Thanks for coming by to visit. Do come again soon.
Until then…blessings,
Sue Erickson
sue@soggystamper.com