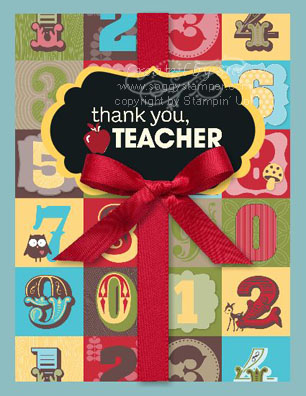 Our church in addition to devoting a portion of the worship service to remembering and praying for the victims of 9/11 and their families honored and prayed blessings on the teachers and staff of the school on Prince of Wales Island. Since the theme for today is Back to School, I felt it was fitting to create a Thank You card for teachers.
I used the digital form of the retired Play Date Designer Series Paper. One of the beauties of My Digital Studio is that the downloads never retire…yay!!! I used two sizes of the Perfect Label punch, filling one of them with Daffodil Delight and the other with Basic Black. The greeting comes from the School Days II Stamp Brush Set. The greeting has an apple as part of the stamp brush. I wanted to be able to color the apple so I pasted the apple from the School Days stamp brush set colored with Cherry Cobbler over the original apple. While it is quite gratifying to hold a stamp in your hand, ink it up, and then stamp it on paper, the ability to make a stamp smaller and to resize punches really creates added value to My Digital Studio and to digital creations. If you haven't yet given My Digital Studio a try, why not??? Click here to order it right now and get started. I am here to answer your questions and give you help. For those of you who already have My Digital Studio or who use a different digital design program but want to create this card for yourself, just click on the names of the downloads I used to find them in my online store.
Supplies:
My Digital Studio (118108)
Play Date Designer Series Paper – Pattern 2 (121438)
Perfect Label Punch (127340)
Satin Ribbon Digital Download (121063)
Thanks for coming to visit today. By the way, have you signed up for my newsletter, News from My Digital Craft Corner? The September issue came out yesterday and I included a link to an exclusive video on how to resize an element on a designer series paper to fit in a punch. Sign up right now in the box at the right so you don't miss next month's newsletter. You never know what surprises I might have in the newsletter.
Until your next visit….blessings,
Sue Erickson
sue@soggystamper.com