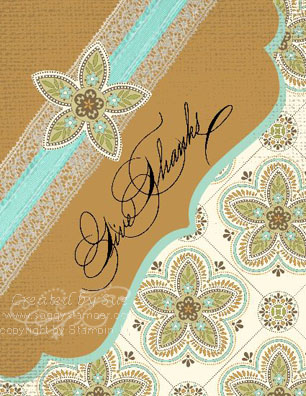 Stampin' Up! released some terrific My Digital Studio downloads today. There are five that have a Halloween theme and there is an autumn themed designer series paper download. For me, the best download is the Hand-Penned Holidays Stamp Brush Set. I love the elegance of the script writing and fell in love with the stamp set in the Holiday Mini. As a matter of fact, it was the first thing I ordered. I combined this stamp brush set with the Spice Cake Designer Series Paper download to create this lovely Thanksgiving card…well…it could be used as a thank you card in general. I used the color picker to select colors from the designer series paper to fill the Perfect Label punches. I filled the Five-Petal Flower punch with the Spice Cake Designer Series Paper 3. Then I double clicked on the punch, moved the paper fill around until the five-petal flower was in the punch, enlarged the flower until it completely filled the punch, and placed it on the upper left area of the card.Click here to see and order today's downloads.
Supplies:
My Digital Studio (118108)
Hand-Penned Holidays Stamp Brush Set (127612)
Spice Cake Designer Series Paper digital download (125610)
Perfect Label Punch (127340)
Five-Petal Flower Punch from Punch Shapes (118853)
3/8" Ruffled Ribbon – Pool Party (127349)
Victoria Crochet Trim Ribbon (122158)
Thanks for coming by to visit today. Come back again soon.
Until then….Blessings,
Sue Erickson
sue@soggystamper.com