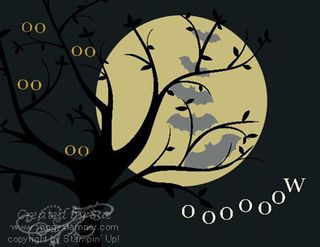 To get you in the Halloween spirit, the Utah Divas International design team for MDS Monday are to create a card or scrapbook page that is creepy. First I filled the background with Basic Black. Then I created a huge moon using the circle punch filled with Barely Banana color and then decreased the opacity to about 75% to make it a little less bright. Next I used the bat punch and created 5 Basic gray bats flying across the moon. I stamped the tree from the Bold Branches Stamp Brush Set and reduced the size to fit this 5 1/2" x 4 1/4" card. I created the sentiment with the Schoolbook Serif Alphabet stamp brush set. As I was doing this, I was inspired to use the o's to create the glowing 'eyes' in the tree. This was a quick card to make and being able to change the size of stamps is one of the great benefits of the My Digital Studio software. Click here to order your own copy. To order any of the downloads used in this project, just click on the name of the download.
Supplies:
My Digital Studio (118108)
Circle Punch from Punch Shapes (118853)
Bitty Bat Punch (122152)
Bold Branches Stamp Brush Set (124212)
Schoolbook Serif Stamp Brush Set (118821)
Thanks for visiting today. I hope this little card gets you in a 'spooky' mood. Do come back to visit tomorrow when I give you the link to the newest digital downloads. Hopefully, Stampin' Up! will have updated the downloads on the front page of my online store by morning.
Until the next time…blessings,
Sue
sue@soggystamper.com