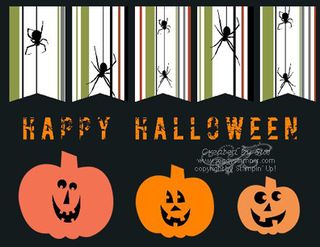 Can you believe it? Halloween is here and Thanksgiving and Christmas are not far behind! Creating this card with My Digital Studio was an easy job! There is no mess to clean up and no clutter to put away. I hope you have a good time greeting all the little goblins that come visiting tonight. The teachers in our school district have inservice days today and tomorrow so they don't have to try to teach kids that are on a sugar high. That gives me almost a 4 day weekend. Whoohoo! I plan to get caught up on some online classes I have been taking and finish a quilt block I have been working on.
Supplies:
My Digital Studio (118108)
Pumpkin punch from Grateful Heart Thanksgiving Ensemble (127620)
Pumpkin Patch Stamp Brush Set (118122)
Flag Punch (125785) filled with Frightful Sight Designer Series Paper – 5 (123144)
Chat Room Occasions – Happy Halloween (125159)
Visit my online store or click on each item do order any of the supplies you need for this card. Also don't forget to join Stampin' Up! with their online celebration of Digital Scrapbooking Day this coming weekend. There are free downloads to be had at www.mydigitalstudio.net.
Until next time…blessings,
Sue
sue@soggystamper.com