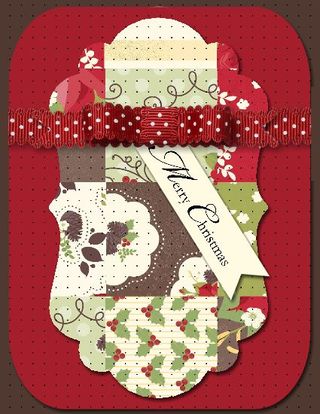 Our challenge on the design team for Utah Divas International MDS Monday was to use multiple designer series papers. This is an easy assignment for me! You should see all the designer series papers I have stashed in my stamping room!
I have made this quilted pattern with a variety of designer series papers with hands-on paper crafting and devised a way to do it digitally. I love, love, love the Holly Berry Bouquet Designer Series Paper and was so happy it was one of the new My Digital Studio downloads last Tuesday. Here is my digital version of the technique. Instead of using the Top Note punch most commonly used, I used my favorite Perfect Label punch. I am really hoping that it will be coming out as a punch in next year's catalog. I also used the Flag punch for the greeting from A Cardinal Christmas. The black dots are from the Hip and Handsome Overlays. I really wanted to get a quilted look on the squares but settled for the dots all over the card. I should have added them to the quilt squares before I imported them into the punch. To order the supplies needed for this card, visit my online store or click on the item names in the supply list.
Supplies:
My Digital Studio (118108)
Holly Berry Bouquet Kit (127773)
Hip and Handsome Overlays Stamp Brush Set (125753)
A Cardinal Christmas Stamp Brush Set (123966)
Flag Punch (125785)
Perfect Label Punch (127340)
Thanks for coming by to visit today. Tomorrow is Terrific Tuesday when I share the link to the new downloads released each week. You won't want to miss them and they are really hard to find on the Stampin' Up! site. So come check them out here.
Until then…blessings,
Sue
sue@soggystamper.com