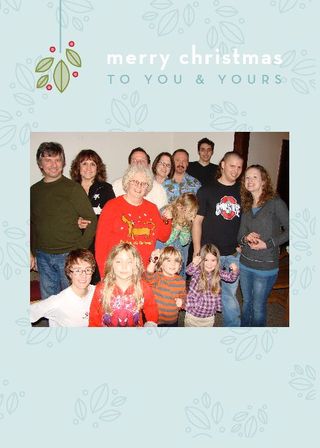 It is 10 p.m. here in Alaska, but it is still Tuesday so I am technically posting this feature on the right day! I was excited to see the new My Digital Studio downloads for today. Here is the link for these new downloads. Download MDS_Downloads_-_Oct_11  I chose to share with you the You & Yours Christmas Photocard Template. I love the colors on it and the subtle background. The picture I wanted to put on the card did not fit in the photo box in the template so I deleted that one and added my own photo box which fit the photo. This picture was taken last Christmas after our family Christmas dinner. Our son-in-law found an old video of the song Jingle Bells with the 'bouncing ball'. Everyone had a handful of jingle bells and we shook them as we sang the song. Boy did the little ones enjoy that!!!
Designer templates are a very quick and easy way to create your Christmas cards. All you have to do is drop in a photo like I did and your card is ready for the printer. However, your creativity isn't limited to just that. All the components of the template are downloaded in individual files as well so you can use them on any project you wish.
Check out the new downloads from today, then visit my online store to order the ones you know you need to have. Thanks for stopping by today and…
…let the Christmas creating begin!
Sue
sue@soggystamper.com