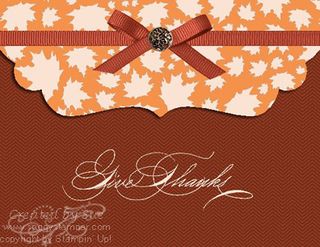 Supplies:My Digital Studio (118108), Grateful Heart Thanksgiving Ensemble (127620), Hip and Handsome Overlays – 6 (125753) with opacity set at 30%, Hand-Penned Holidays stamp brush set (127612), Perfect Label Punch (127340) filled with Grateful Heart Thanksgiving dsp 1-07, Antique Brads Pack (122164)
Before starting my stint in the kitchen cooking the turkey and all the trimmings for dinner, I wanted to take time to wish everyone a very Happy Thanksgiving Day. I hope you have a wonderful time with family and friends and that your travels may be safe ones. I am excited because we have snow for Thanksgiving! It is unusual to get snow here in SE Alaska by Thanksgiving. We usually don't even have snow at Christmas. This is not good for all those who were trying to fly to the lower 48 for the holiday but it is great for me and kids here. They will have a long weekend to enjoy sledding.
I am grateful for all you, my faithful readers and customers. I also want to give thanks to God for my loving family, the comforts of home, my good friends, and all the blessings He has so freely given me. I invite you to leave a comment as to what you are expecially thankful for this year.
Until next time…blessings,
Sue
sue@soggystamper.com