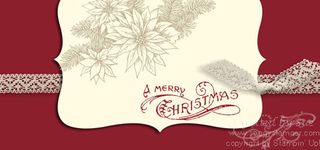 Welcome to The Soggy Stamper blog this very windy, stormy Monday here in SE Alaska. We had lovely snow this past week and it really put me in the Christmas spirit. Now the winds and the rains have washed the snow away and we are back to the dark and gloomy days of SE Alaska winters.
What does CASE stand for, you may ask? It stands for Copy And Steal Everything on a card or scrapbook page. It is a form of high honor in the stamping world. Today the design team for My Digital Studio Monday on Utah Divas International was to copy a sample from the Stampin' Up! 2011-2012 Idea Book and Catalog or the Holiday mini catalog.
The card I CASEd is on page 43 of the big catalog.It is a long, skinny card. That shape is not an option on My Digital Studio at this time so this is what I did. I created my card using the portrait trifold card like this: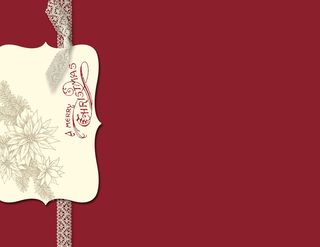 Then I exported it as a jpeg to my computer. Next I opened the file in Photoshop Elements 9, rotated the card and cropped it to just the top third of the card. If you wanted to actually print out and send this card, move the composition to the middle third of the card. You would have to block out the top portion of the Top Note Shape and stamped image by covering it with a rectangle punch filled with Cherry Cobbler color to match the background.
Supplies:
My Digital Studio (118108)
Deck the Halls Photocard Digital Kit (122176) – Bells and Boughs Stamp Brush Set
Top Note Shape Digital Download (124414)
Crochet Trim Ribbon Pack (122158)
Thanks for coming to visit me today. I hope you enjoy this card. Do come back tomorrow to see what the newest downloads are. If you need any of the downloads used to create this card, just click on the individual downloads or click here to enter my online store.
Finally, there are just 3 days left to take advantage of Stampin' Up!'s Online Extravaganza! Click here to see all the wonderful things that are on sale! Be sure to check out the digital items and check out the great deal on My Digital Studio Express! Purchase My Digital Studio Express before November 30 and get $40 FREE downloads! Don't wait! Place your order now, download the program, and you could have your instant stamp room in your computer this morning! Are you excited yet? Can you tell I am?
Until tomorrow…blessings,
Sue
sue@soggystamper.com