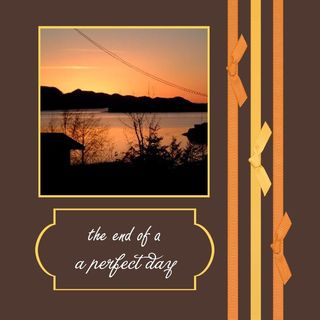 Here in SE Alaska, the fall colors have already disappeared but God offers us glorious fall colors in our sunsets. This sunset occurred in January. When we were given the color challenge of Early Espresso, Pumpkin Pie, and Daffodil Yellow, I was in a little quandry as I don't have the typical Fall pictures. Then I remember all the beautiful colors of our sunsets and knew exactly what image would be my focal point of this 8" x 8" scrapbook page. Since the photo says it all, I just added three strips of ribbon and a frame around the journaling. I created the frame by layering an Early Espresso-filled Merry Medallion punch over one filled with daffodil yellow. I first tried a pumpkin pie-filled punch and a daffodil yellow-filled punch but the colors were too strong. I really love the thin daffodil yellow border which mimics the daffodil yellow mat around the photo. The beauty of the forests, water, and sunsets of SE Alaska more than make up for the isolation and the 130+ inches of precipitation we get every year.
Supplies:
My Digital Studio (118108)
Merry Medallion Punch from the Merry Medallion Photocard Template (127569)
Pumpkin Pie and Daffodil Yellow grosgrain ribbon – 1/4" Ribbon in Basic Colors (118851)
Thanks for coming by to visit today. Have I convinced you yet of the versatility and convenience of creating with My Digital Studio? If so, all you have to do is click on the link to be taken to my online store to place your order. I am here to help you get started and to give you all kinds of tips and ideas. If you already have My Digital Studio or another photo imaging program that supports jpeg or png files and layers, you can order the specific downloads I used for this scrapbook page by clicking on the download name or by entering my online store here.
Until tomorrow…blessings,
Sue Erickson
sue@soggystamper.com