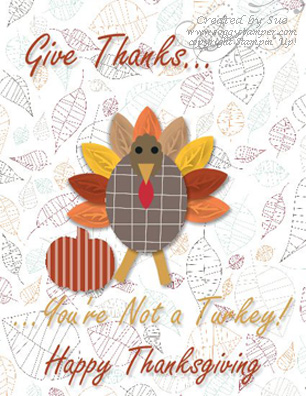 Our mission today was to share our turkeys. I took that to mean to create a turkey, not to share a project that turned out poorly or a 'turkey'. I used a variety of punches to bring this turkey to life and added one of the leaf vein stamps from the Build a Blossom stamp brush set to each feather. I colored the stamp with the same color of the feather using the color picker feature and added the drop shadow for a little bit of dimension.
Supplies:
My Digital Studio (118108) or My Digital Studio Express (124483)
Build a Blossom Stamp Brush Set (124019)
Grateful Heart Thanksgiving Ensemble – pumpkin punch (127620)
Petite Pennants Punch (127352)
Blossom Petal Punch (124018)
Modern Label Punch and oval punch from Punch Shapes download (118853)
Fun Flowers Shapes -3 punch (124453)
Cajun Craze Stripe Designer Series Paper – part of 2010 New Color Patterns free upgrade
I love the way My Digital Studio allows you to change the size and shape of punches and to resize stamps to fit the creative ideas I have. If you haven't given My Digital Studio a try yet, don't wait any longer. Today begins Stampin' Up!'s Online Extravaganza which will run through Nov 30th. Each day will have some spectacular specials, one of which is $40 worth of free downloads when you purchase My Digital Studio Express. So visit my online store daily to see what the specials are each day, then place your order so you don't miss out.
Thanks for coming by to visit today! Do come back here to The Soggy Stamper tomorrow to check out the new digital downloads.
Until the next time…Happy Thanksgiving and blessings,
Sue
sue@thesoggystamper.com