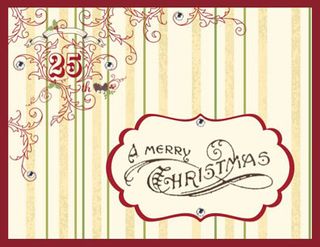 Welcome to My Digital Craft Corner this Monday before Christmas. Have you finished all your cards and have them in the mail? I haven't even begun to make my hands-on cards much less get them mailed! Therefore, this digital card will be the way I share Christmas greetings this year.
Did you know that you can fill a punch with designer series paper even when there is a large image on the paper? I filled a square punch stretched to a rectangle with the pattern 10 of the Holly Berry Bouquet Designer Series Paper. This paper has a large image in the upper left-hand corner of the paper. All I had to do to get it into my punch was to first fill the punch with the paper. All I could see was stripes at the time. Then I double clicked on the punch and moved the paper around to get the corner in the punch. The image was too big to fit so I used the negative magnifying glass to shrink the image to the desired size.
Supplies:
My Digital Studio (118108)
Holly Berry Boquet Designer Series Paper – pattern 10 (part of Holly Berry Bouquet Digital Kit (127773)
Perfect Label Punch (127340)
Bells and Boughs Stamp Brush Set from Deck the Halls Photocard Digital Kit (122176)
Basic Pearls and Rhinestones (124330)
Cherry Cobbler grosgrain ribbon knot from 1/4" Ribbon Knot in Basic Colors digital download(118856)
If you are in need of any of these supplies or even other downloads, you can either click on the item name or visit my online store. My store is open 24/7. While you are there be sure to check out the Clearance Rack Blitz going on right now. You can get deep discounts but only while quantities last!
Thanks for coming by to visit today. Do come back tomorrow to check out the new downloads.
Until next time…blessings,
Sue
sue@soggystamper.com