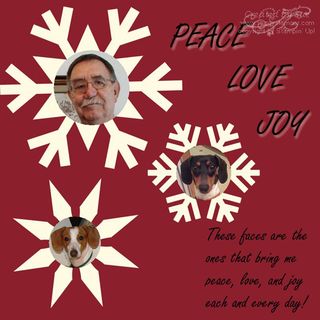 My Digital Studio (118108), Circle Punch from Punch Shapes (118853), Snowflake Trimmings Punch (128882), Snowflake Punch from Punch Shapes
Oh, how I wish I were seeing snowflakes again!!! The winds and rains have washed away all vestiges of last week's snow. We are back to the dark, gloomy, rainy days of December. So I guess I will have to create my own snowflakes. I was delighted when Stampin' Up! released the Snowflake Trimmings Punch download and I knew exactly what I wanted to do with them. Originally I filled the whole snowflake with the photo but it was too busy and you couldn't really get a sense of the photo. So I filled a circle punch with the photos and put them in the center of the snowflake. Now I have a different idea of filling the snowflake with a scenic photo. I'll share that with you later.
As always, you can purchase the supplies for this scrapbook page by clicking on the names of the items or visiting my online store by clicking here. If you don't already have a Stampin' Up! demonstrator, I'd love to be your demonstrator,

I love gently falling snow. Snow covers all the ground with a glistening blanket of white softening harsh edges and hiding all kinds of junk. To me, Christmas and snow go together so I was really in the Christmas spirit last week.
Now it is your turn to share. What puts you in the Christmas or Chanukah spirit the quickest? Share your response by posting below.
Until tomorrow…Blessings and Happy Holidays,
Sue
sue@soggystamper.com