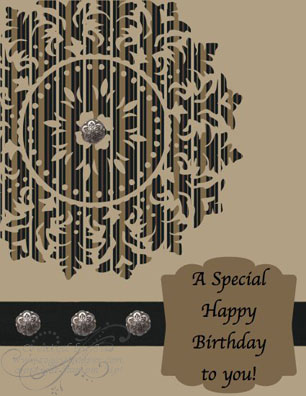 My Digital Studio (118108), Mocha Morning Designer Series Paper (129008), Hugs and Kisses Punch (129014), Antique Brads Pack (122164), font Kokonor size 20
Yesterday was a terrific Tuesday in several ways. My husband has been suffering from severe back pain from spinal stenosis for quite some time. Yesterday he had surgery to fix this. The surgery went well and the pain in his hips and legs is gone! This is a wonderful Christmas present for both of us as I have stressed over how much he hurt but wouldn't take anything for the pain. He has a little pain from the incision site but it is nothing like what he has been experiencing over the last year.
While I sat in the waiting room and sat with him in his room after the surgery, I got some serious knitting done on a Christmas present for one of our great-granddaughters. That was also terrific since she is visiting our daughter where we are also visiting. Now I won't have to knit surreptiously within her eyesight.
Finally, yesterday was a terrific Tuesday because Stampin' Up! released four wonderful downloads. Click here to see them and order the ones you know you gotta have. :o) I used the wonderful Mocha Morning designer series paper – 3 to fill a punch I created from the Medallion background stamp. I also used the Hugs punch which is one of the new downloads.
Here is a tip for you: if you can't find a particular punch or stamp set or you want to know what specific items like snowflakes have been downloaded, use the search feature in the buttons along the top tool bar.
I could not find the Hugs and Kisses punches in My Digital Studio yesterday after repeatedly installing them. I knew they were on my computer because the 'inspector' feature of a Mac could find them and the path showed that they were in My Digital Studio under Labels and Tags. They just wouldn't appear there. Finally, this morning, I got the brilliant idea of using the search feature of the 'add punch' button on the top tool bar. It turns out that those two punches got installed into a separate file under Labels and Tags. Now that file folder shows up if I double click on Labels and Tags in the browse button on the Resource Palette.
I hope everyone has safe travels over this holiday season and that you are able to enjoy them with family and friends. Come back tomorrow to see the Happy Hanukkah card I have created for my Jewish friends.
Until next time…blessings,
Sue
sue@soggystamper.com