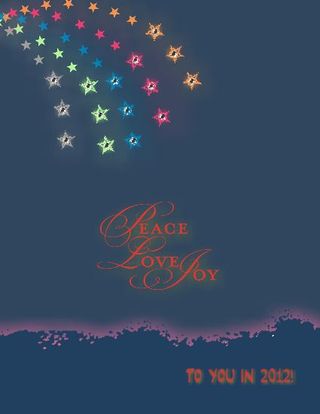 Supplies used: My Digital Studio (118108), Torn Edges – hand torn (118846), Anchored – stars (124581), All Holidays (118825), Basic Pearls and Rhinestones (124330)
Welcome to The Soggy Stamper this first Monday of 2012. I wish you and your family the best in 2012! I created this New Year's card just for you, my faithful readers. Can you guess how I created the sunrise and pink snowfields on the mountains at the bottom of the card? This is a view that we often see here in SE Alaska, especially up in Haines where we lived for 8 years prior to moving to Craig. Our livingroom windows looked across Lynn Canal to exactly the same view as is in this card.
I happily stumbled onto this as I was playing with the Hand torn stamp of the Torn Edges Stamp Brush Set. I changed the drop shadow to Pink Passion and increased the blur to full and opacity to 100%. The actual stamp is Night of Navy like the background. I'm not sure why the background is not quite as dark as the torn edges stamp but it works well for me. The falling stars are my attempt to create a fireworks display for the new year.
I love the effects I can get with My Digital Studio! If you are ready to give it a try, there are two options for you…no…there are three options. First you can purchase the complete software on a DVD by clicking here. Second, you can order My Digital Studio Express. This software is a download. It contains all the necessary programs to run My Digital Studio but has less digital content in the way of stamps, papers, and embellishments. Those things can be upgraded at a later time if you desire. You still get plenty to start creating digitally with the My Digital Studio Express.The third option works if you already have image editing software that supports jpeg or png extensions and multiple layers. Then you can just download individual files you like and use them with your other software. You can purchase these files here in my Stampin' Up! online store.
Be sure to come back tomorrow to see what I create with some of the new downloads from Stampin' Up! The January edition of The Soggy Stamper Newsletter will be published tomorrow as well. If you like the work I have been doing and would like to receive exclusive projects for your creative pleasure, subscribe to my newsletter by filling out the box to the right.

Until the next time…blessings,
Sue
sue@soggystamper.com