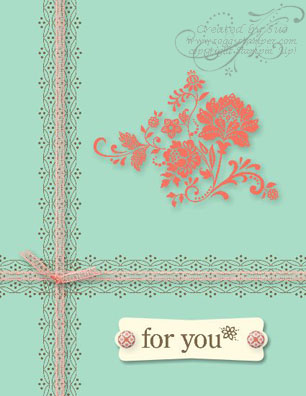 One Big Sale-A-Bration CD (127220), Modern Label Punch (118853), One of a Kind Stamp Brush Set from the My Digital Studio software disc (118108)
It is Terrific Tuesday here in My Digital Craft Corner and I have two reasons that today is terrific. First, new digital downloads were released by Stampin' Up! for My Digital Studio. You can see the new downloads and order them here.
The second reason today is terrific is that it is the beginning of the long-awaited Sale-A-Bration in Stampin' Up! land. For every $50 you spend in product Jan 24 – March 31, you can choose a FREE exclusive item from the wonderful Sale-A-Bration brochure. It contains both traditional stamps and accessories AND digital CDs! I created this card using the Fresh Vintage Stamp Brush Set, Calypso Coral 1/8" Organdy Ribbon, and 3/8" Printed Designer Brads from the One Big Sale-A-Bration CD. This CD contains all the new, exclusive Sale-A-Bration products in digital format! What a bargain! For $50 dollars spent on product, you get 5 stamp brush sets, 12 Designer Series Paper Patterns, 6 ribbons, and 5 brads. Host a workshop or purchase $150 in products yourself and you will receive this beautiful FREE tote. So start shopping! My online store is open 24/7!

Thanks for stopping by to visit today. Here…have a virtual cup of coffee or tea while you spend some time browsing around My Digital Craft Corner. Feel free to share with a friend.
Until next time…blessings,
Sue
sue@soggystamper.com