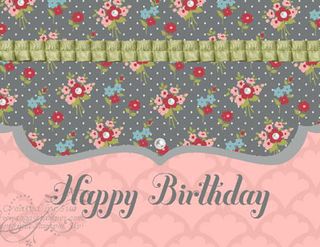 Supplies: My Digital Studio (118108), Twitterpated Kit (129332), Bring on the Cake Stamp Brush Set (124015), Fancy Fan Stamp Brush Set (127348). Perfect Label Punch (127340), Basic Pearls and Rhinestones (124330)
Welcome to The Soggy Stamper this chilly Monday morning! For Craig, it is really cold…(17 degrees right now)…but it is sunny! Yay! I am really 'twitterpated' that one of the new downloads last Tuesday was the Twitterpated Digital Kit. Not only did we get the wonderful Twitterpated Designer Series Papers, but we also got the pleated ribbons and the Twitterpated buttons. That's so cool! I designed this card for a good cyber friend's birthday today. I am always procrastinating getting cards made and into the mail so My Digital Studio is perfect for creating digital cards that can be sent quickly by email. Have you purchased My Digital Studio? Why not give it a try right now. You can either order the full software program on DVD here or order My Digital Studio Express and choose the DVD or the digital download. In any case, I am here to help you get started and to answer any questions you might have. If I don't have the answer, I will do my best to get it for you.
Thanks for coming to visit today. Please do take time for a virtual cup of tea or coffee with me and browse my other posts. I look forward to meeting you here tomorrow to share the new digital downloads Stampin' Up! gives us.
Until the next time…blessings,
Sue
sue@soggystamper.com