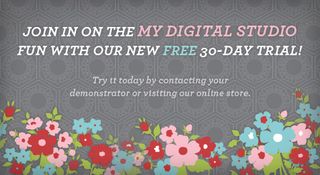 Stampin' Up! is offering a FREE 30 day trial period of My Digital Studio Express. This is the same downloadable software as the purchased My Digital Studio Express. There are all the components you need to start designing scrapbook pages and cards digitally. Check out what is available on this program below. After the 30 day free trial period you can either purchase the program or just delete it from your computer. You will have access to any and all downloads for purchase and to the print options with Stampin' Up!'s professional printer. You can be enjoying the fun of digital designing in a few minutes. You have nothing to lose so download it now. Just click here to order it. I am always ready and happy to help you learn how to use My Digital Studio.
With the FREE trial, you'll get:
Full access to the software at NO COST.
Full design functionality.
Exclusive artwork that comes with My Digital Studio Express as listed here Download MDS_Express_Contents
Opportunity to purchase additional downloads from designer templates to stamp brush sets–and everything in between.
Access to our professional print services.
Thanks for coming to visit today. Take time to enjoy a virtual cup of tea or coffee with me and browse around my blog.
Until next time…blessings,
Sue
sue@soggystamper.com